Tips to prepare for a newborn session with a dog
For many new parents, their dog is an important member of the family, and they want to include their furry friend in their newborn photo shoot. Bringing a dog to a newborn photo shoot can be a great way to capture memories and create beautiful photos, but it's important to take some precautions to ensure everyone's safety and comfort. Here are some tips for new parents who want to bring their dog to a newborn photo shoot.
Choose the Right Dog Photographer
Not all newborn photographers are comfortable working with dogs, so it's important to find a photographer who has experience working with dogs and newborns. When looking for a photographer, make sure to ask about their experience with dogs and how they handle dogs during photo shoots. Look for a newborn photographer who is patient, calm, and willing to work with your dog's personality.


Prepare Your Dog Ahead of Time
Before the photo shoot, it's important to prepare your dog for the experience. Make sure your dog is well-exercised and has had a chance to go to the bathroom before the photo shoot. It's also a good idea to practice posing with your dog at home so that they are comfortable with the positions and movements required during the shoot.
Bring Someone to Help
Bringing someone to help you during the photo shoot can be a great way to keep everyone safe and comfortable. This could be a friend, family member, or dog sitter who can keep an eye on your dog and help to keep them calm and happy during the shoot. This person can also help to hold your dog's leash or take them for a walk if needed.
Bring Treats and Toys
Bringing along some of your dog's favorite treats and toys can be a great way to keep them engaged and focused during the photo shoot. This can help to prevent your dog from getting bored or distracted, and it can also help to keep them calm and happy.
Be Flexible
It's important to be flexible during the photo shoot and to be willing to change plans if needed. For example, if your dog is feeling nervous or agitated, it may be best to take a break and let them relax for a few minutes. If your dog is not comfortable with a certain pose or position, it may be necessary to change the plan to make them more comfortable.
In conclusion, bringing your dog to a newborn photo shoot can be a wonderful way to capture memories and create beautiful photos. By choosing the right photographer, preparing your dog ahead of time, bringing someone to help, bringing treats and toys, and being flexible, you can help to ensure that everyone is safe, comfortable, and happy during the photo shoot. With a little preparation and patience, you can create beautiful photos that you will cherish for years to come.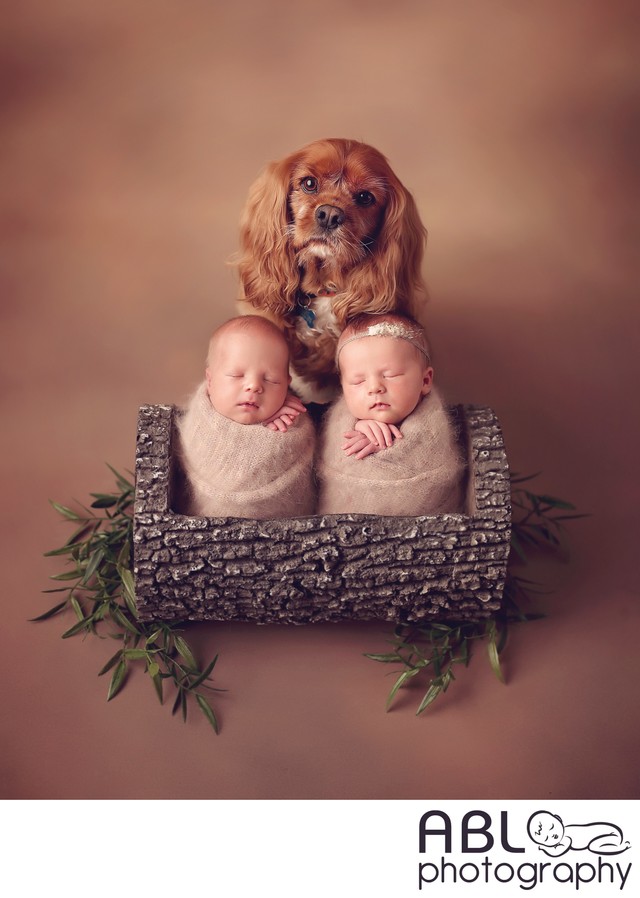 Did you know that ABL Photography is a pet-friendly San Diego newborn photography studio?! We LOVE dogs and other pets too! You are welcome to bring over your furry family members. You can look through our extensive online portfolio for some beautiful pictures of newborns with dogs. We are always open to new ideas to create unique and meaningful pictures of your family. Got San Diego puppies? Bring them over! :)
Please contact your San Diego newborn photographers ahead of time to discuss details and plan your dream newborn photos with a dog.

Location: San Diego, CA.

Keywords: brown (80), carriage (9), dog (22), info (16), newborn (101), San Diego (159).