Tips for outdoor newborn photos by San Diego baby photographer
Outdoor newborn photography can be a beautiful and unique way to capture the early moments of a baby's life. With the right preparation and precautions, outdoor newborn sessions can result in stunning and memorable photos. In this article, we'll cover some tips and techniques to help you get the most out of your outdoor newborn photography sessions.
Location, Location, Location
The first step in planning an outdoor newborn photography session is to choose the right location. There are several factors to consider when selecting a location, such as the weather, time of day, and the baby's comfort. Generally, it's best to schedule outdoor newborn sessions during the early morning or late afternoon, when the light is softer and the temperature is milder. When selecting a location, look for a place with plenty of shade, such as a park, garden, or woodsy setting.
Safety First
When photographing newborns outdoors, safety is the number one priority. Make sure that the location you choose is safe for the baby, with no hazards such as sharp objects or uneven terrain. Also, be sure to use a spotter or assistant to help hold the baby in place and ensure their safety at all times. Consider bringing a first aid kit, mosquito repellent that you can place near your props, and a white screen to protect the baby from sunlight and keep the baby safe and comfortable throughout the session.
Lighting and Equipment
One of the advantages of outdoor newborn photography is the abundance of natural light. However, working with natural light can be challenging, as the light can be unpredictable and change quickly. When working with natural light, try to position the baby in a spot where they are not facing the sun directly, which can cause harsh shadows and overexposure. Consider bringing a reflector or diffuser to help control the light and create a softer, more flattering look.
In terms of equipment, it's best to keep it simple. You don't need a lot of gear to capture beautiful outdoor newborn photos. Bring your camera, a few lenses, and some props and accessories to enhance the photos, such as blankets, wraps, and baskets.
Posing and Composition
When it comes to posing and composition, there are endless possibilities with outdoor newborn pictures. The key is to keep the baby comfortable and safe at all times and to work with the natural environment to create unique and beautiful shots. Try different poses and angles, such as close-ups of the baby's face, shots of the baby with their parents or siblings, or photos of the baby wrapped in a blanket surrounded by nature.
Post-Processing
Once the outdoor newborn session is complete, it's time to edit the photos. When post-processing outdoor newborn photos, it's important to maintain a natural and timeless look. Avoid using heavy filters or overly bright colors that can distract from the baby's beauty. Instead, focus on enhancing the natural light and colors in the photo, and on removing any distractions or blemishes that may have appeared in the final shots.
In conclusion, outdoor newborn photography can be a unique and beautiful way to capture the early moments of a baby's life. By choosing the right location, taking precautions for safety, and working with natural light, equipment, and composition, you can create stunning and memorable photos that will be cherished for years to come.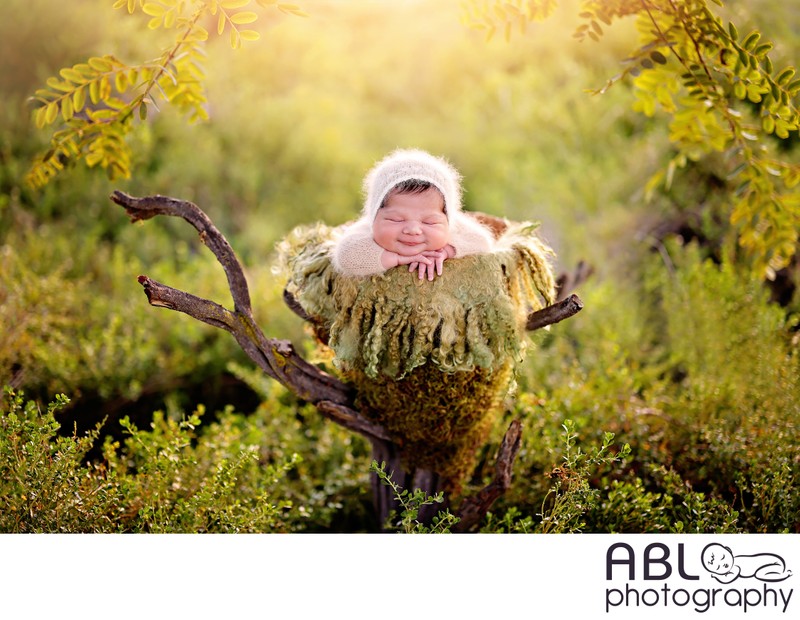 Svetlana Aleynikova is a skilled San Diego newborn photographer specializing in maternity, newborns, babies, children, and families both in her San Diego newborn studio and throughout the San Diego county area. She takes San Diego baby pictures outdoors and in her San Diego newborn studio. All of her San Diego newborn photography sessions include access to an extensive studio wardrobe for moms and babies, custom session planning, and a personalized reveal and ordering appointment after your session to pick the perfect way to enjoy your finalized artwork from your session.
Areas she serves include but are not limited to La Jolla, Del Mar, Rancho Santa Fe, Solana Beach, Encinitas, Carlsbad, San Marcos, Vista, Oceanside, UTC, San Elijo Hills, Poway, Mira Mesa, Scripps Ranch, Escondido, Cardiff by the Sea, El Cajon, La Mesa, Pacific Beach, Carmel Valley, Torrey Highlands, Crestmont, Rancho Pensquitos, Pacific Highlands, Miramar, Sabre Springs, Sorrento Valley, Carmel Mountain Ranch, Claremont, Chula Vista and Bonita.

Location: Quail Gardens Drive and, Ecke Ranch Rd, Encinitas, CA 92024.

Keywords: baby (31), baby as art (39), baby in nature (2), best San Diego newborn photographers, bloom (6), blossom (4), buggy (2), cherry blossom, family (53), flower girl (9), flowers (32), fresh, garden (4), girl (76), infant photos (7), info (16), newborn baby outdoors, outdoor newborn photos (2), peach blossom, photos of baby in flowers, pram (3), spring (6), stroller (5), summer (5), unique (6).