What to expect during a newborn photography session
Congratulations, your baby has arrived and you're now getting ready for your newborn photography session! It's important to prepare ahead of time to ensure a seamless and comfortable experience for everyone involved. Here are some tips to help you get ready for your upcoming session with ABL Photography:

We recommend contacting ABL Photography ASAP after the baby is born. So, we can schedule your photo shoot and confirm all the details. This is the time when we need to know about your color preferences (choose 2-3 colors) or whether you have special requests for particular poses or props you would like to use during your newborn photography session. We usually prepare all the props and outfits ahead of time. So, when you arrive at the studio with your precious baby, everything is set up and ready to go.

A typical newborn photography session is 3 hours. We want your baby to sleep through the entire photo shoot. The sleepier, the better. We suggest keeping your baby awake for two hours before the session so that they are ready to sleep during the shoot. You may also want to give your baby a bath during this time to help keep them alert and make them tired.
We recommend feeding your baby at home just before you leave and when you arrive at the studio, you can top it off to make sure the baby is happy and sleepy and ready to be posed for those cute newborn poses. If your baby is wide awake when you arrive, no worries! We can capture a couple of awake shots that usually became the parent's favorites. If we get lucky we might get a picture of your baby looking at the camera and we get "Jack-pot" lucky :) we can capture a smile or smirk, but it's not guaranteed.
To keep your baby comfortable, we keep the studio temperature at around 80 degrees. Dress in layers and bring some change clothes just in case.
During the session, we may use a pacifier to help soothe your baby if needed. Please bring a pacifier without any toys attached. Usually, babies don't get used to a pacifier after using it a couple of times during a newborn session. But, if you are concerned and prefer not to use a pacifier, we will use different methods to keep your baby comfortable and relaxed.
Finally, the most important tip is to not stress! Babies are highly sensitive to their mother's emotions and stress levels, so it's essential to stay relaxed and enjoy the moment. There is a comfortable couch in the studio. So, you can grab a pillow and a blanket and take a nap and wake up refreshed and excited to participate in the family photos that we usually take at the end of the session. SLEEP is what most new parents really want and our clients usually comment that it was one of their favorite parts of their newborn photography session experience! Haha!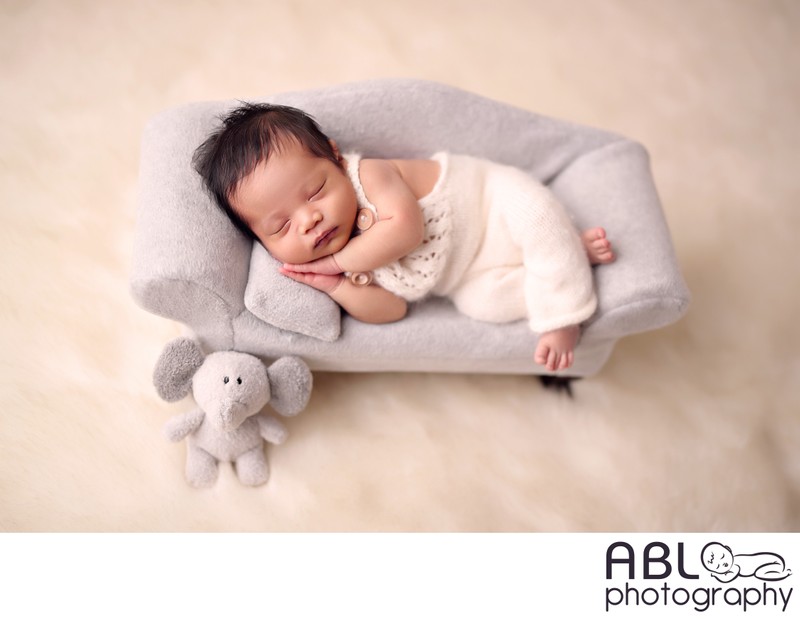 But if you are one of those mamas that don't want to miss a thing during their newborn photo shoot, you are welcome to watch us work with your precious baby and create our magic in front of your eyes!

We hope these tips have been helpful in preparing for your newborn session with ABL Photography. We can't wait to create some beautiful pictures of your baby and your family that you are going to treasure for a lifetime!

Location: 13376 Poway Rd, Poway, CA 92064.

Keywords: boy (68), chair (18), milk (5), newborn (101), overalls (3), Poway (15).